CS sends more than 60 to Grace Hopper Celebration in Houston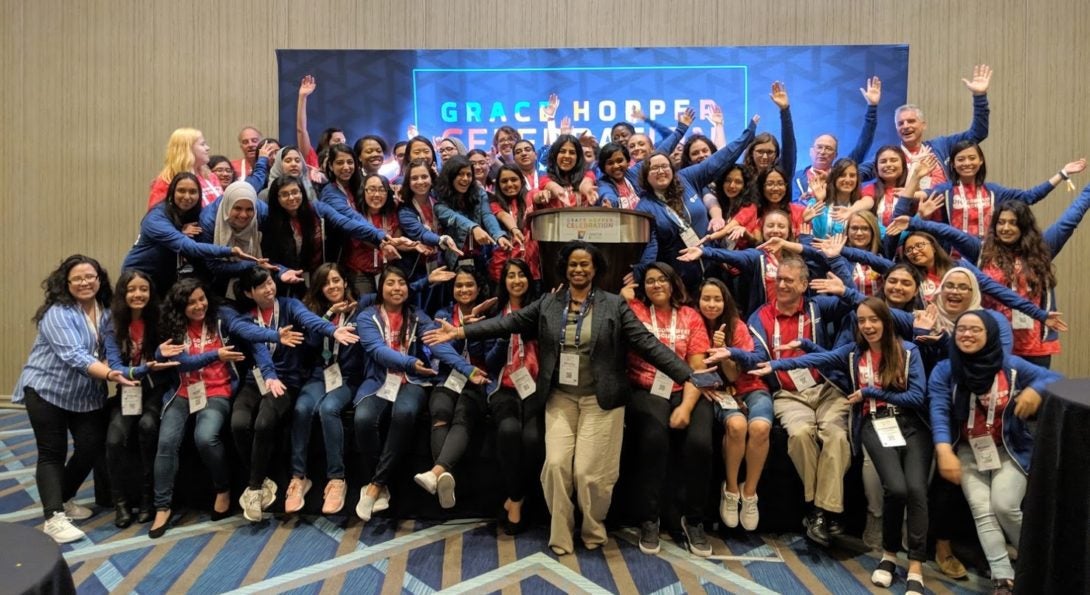 More than 60 Computer Science students, faculty and staff attended the Grace Hopper Celebration in Houston September 26-28. Students were able to attend presentations on a variety of topics, professional development activities, an open source day, and much more during what is billed as the world's largest gathering of women technologists.
Seeing so many girls from the technological field was actually a motivator and relief because we don't see much of that on campus. The few days spent there was both educational and so inspiring.

|
Aiswary Baiju (BS '19) was one of several Grace Hopper Celebration (GHC) attendees selected for a technical poster presentation of her research on the development of an automated virtual health coaching assistant.
"I have always been intrigued by Artificial Intelligence and the research project my professor was working on was very interesting and it's a technology that doesn't exist yet. So I knew I wanted to be part of such a project that will expose me to new ideas and help me learn more and put my technical skills to test," Baiju said.
Baiju felt her poster made a good impression on the GHC attendees. "They were quite fascinated by the project we were working on and wanted to know much more about it and the future steps we will be working on for automation and the system. Some have even decided to follow-up with me after the conference to further discuss about the research and to know more about the previous progress."
Baiju enjoyed her GHC experience. "It was a very enlightening and quite an eye-opening moment for me; it boosted my confidence in both my technical as well as professional skills. Seeing all these women excel in their field and receiving valuable feedback from them and just being around such accomplished individuals who had so much knowledge and advice to share with us, it was just incredible."
Baiju's advice for other female computer science students: "I would encourage more people to apply and attend GHC because every second we spent there was so worth it and so inspirational. It's an experience that we don't get much of and is worth taking advantage of," she said.
Modified on May 30, 2019