CS graduate Anusha Pai represents the College of Engineering at Spring 2019 Commencement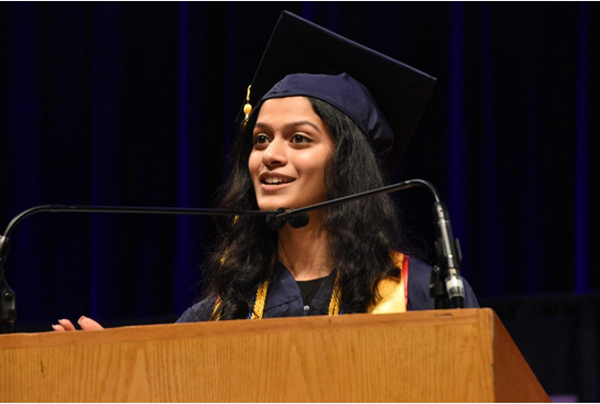 Anusha Pai could barely contain her excitement after being named student representative for the UIC College of Engineering Spring 2019 Commencement ceremony. Pai, one of four Bell Honors Recipients, auditioned for the opportunity to address her class at the graduation ceremony on May 12 at Credit 1 Arena.
"It's been a dream of mine to deliver a speech to a wide audience—especially this platform, at the beginning of my career. I've always wanted to do something that would encourage other people in a positive manner," Pai said.
Bell Honors Recipients are students recognized with the highest grade-point average in each graduating class. Pai, a computer science major, delivered her speech during a ceremony where 865 engineering students received their diplomas.
Pai wasn't always sure she was going into computer science, but found herself gravitating toward engineering in high school. An AP computer science course piqued her interest, and she said choosing the major became automatic as time went on.
Pai's approach to her time at UIC, and to life, draws on her experience as a lifelong tennis player. She credits the skills necessary to succeed in tennis as core to her values.
"Hard work, patience, I've applied all of that. Respect, sportsmanship—I've really taken everything I've learned from the game," Pai said. "You play matches and you win some, and lose some. A loss or mistake isn't the end; it's a learning experience. You can fix it in the future. You can fall ten times, but you get up eleven times. That's what life is about."
Pai believes UIC serves up every opportunity for students to succeed, and is grateful for the opportunities she's had here. The commitment to diversity at UIC is one of Pai's favorite things about the school, especially the commitment to see more women enter STEM fields.
Pai attended the Grace Hopper Celebration twice as a student. With the help of Michelle Mittelman, associate director of the Engineering Career Center (ECC), Pai created a video with interviews of several company recruiters on her second Grace Hopper visit, to help fellow students understand what companies look for in job and internship candidates.
"Personally, academically, and career-wise, UIC is giving all of us such a great opportunity. The ECC takes their time to help each and every student find an internship, a job, to explore other areas within their field," Pai said.
Pai worked as a teaching assistant at UIC for CS 111, and gained valuable experience interning first at CDW Corporation, then completed two internships with Google in California. Google recruiters found her resume through her participation with Grace Hopper. Pai wants to travel before starting as a software engineer at Google Chicago in August. She also plans to fit some studying in between now and when she begins her new job.
"We just finished school but I want to learn a few topics I didn't get to. I'm hoping to learn cloud computing," Pai said.
On graduation day, Pai had her parents and brother in attendance, who she says are the backbone of her success. She says they have been incredibly supportive of every decision she's made, and encourage her to follow her dreams.
To her fellow graduates, Pai says her advice is simple: "You always give your best. As you go about life and work, as long as you understand the concepts and you're learning that's enough. The result will come but the work you put in is what matters."
Modified on May 30, 2019