Computer science Assistant Professor Chris Kanich wins Graduate Mentoring Award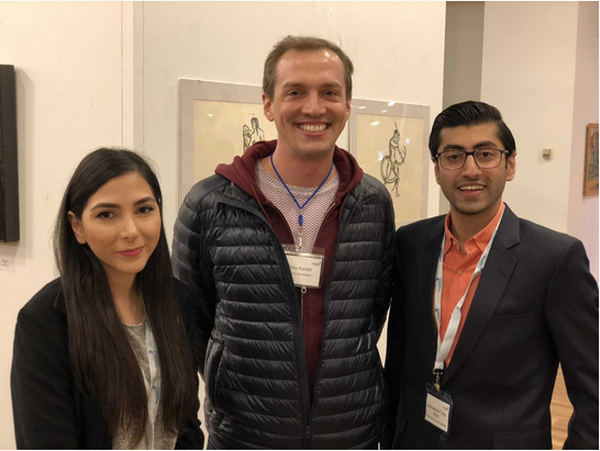 Chris Kanich, an assistant professor in the computer science department at UIC, received the 2019 Graduate Mentoring Award from the University of Illinois Chicago's Graduate College.
Four faculty members are selected each year for the honor, and all recipients are student-nominated. The Graduate Mentoring Awards are designed to encourage and award excellence and innovation in all aspects of graduate mentoring.
Kanich said mentoring students is an "amazingly enjoyable part of his job," and views graduates not merely as students or employees but more like apprentices, where he spends four to seven years working closely alongside each student on various projects.
He is currently mentoring five PhD students: Sara Amini, Mohammad Ghasemisharif, Awais Jafar, Mohammad Taha Khan, and John Kristoff. Amini, Ghasemisharif, and Khan nominated Kanich. A former student, Peter Snyder, penned a letter in support of the nomination.
"Chris embodies all the personal and professional qualities of a great mentor. He has an excellent capability of guiding students of all levels and backgrounds and has consistently shown the same supportive and encouraging attitude as the first day we met him. We are grateful to him for encouraging us to learn new topics, which have led to our success in diverse research areas," Amini, Ghasemisharif, and Khan wrote in their nomination.
They continued, "Throughout his career, Chris has hired students from diverse backgrounds and ensured everyone feels a sense of belonging in the lab. We sincerely hope that once we are mentors ourselves, we are able to influence our students as profoundly as he has influenced us."
Snyder, who graduated last year, now works as a privacy researcher with Brave Software. He shared that without Kanich's guidance, he doesn't think he would have his current job, and isn't sure he would've completed his PhD.
"Chris is a uniquely great advisor because of his willingness to tussle with students about their ideas and objects. Over six years, Chris never once pulled rank, got dogmatic, or gave orders. Even when disagreements got heated (sometimes really heated) he was willing to see the argument through, confident that I either had a point in my disagreement or that I was at least clever enough to eventually see that he was (usually) right from the get-go. I cannot overstate how valuable this practice of politely-but-confidently advocating for an idea, project, or objection has proved to be as a researcher in industry," Snyder said in the letter.
Snyder described how Kanich takes his role as advisor one step further, even visiting him in the emergency room and assisting him with matters beyond academia.
"This kind of kind of kindness and support would be terrific from a close friend; from a new professor working overtime to establish a lab, build his case for tenure, and get new course material together, it is tremendous and deserving of accommodation," Snyder continued.
"It really warms my heart. I care a lot about my students," Kanich said. "This kind of surprise from them is nice feedback."
All of his students, like Kanich, are focused on internet security and privacy.
The award includes a $2,000 prize. Other 2019 winners include Jennifer Cabrelli, assistant professor, Hispanic and Italian Studies; Richard Gemeinhart, research integrity officer and professor, Biopharmaceutical Sciences; and Rebecca Woodard, assistant professor, Curriculum and Instruction.
Modified on June 30, 2020